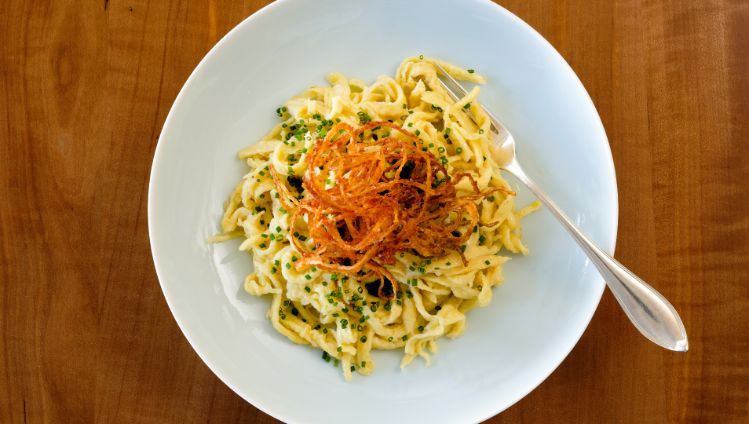 Cheesy pasta ribbons
Michelin-starred chef Christian Kuchler has reinterpreted the unrivaled cheese classic «Käsespätzle» [cheesy pasta ribbons] for Studer cheesemakers. The secret to any good cheesy pasta recipe is in the cheese combo! And that's the key to Christian Kuchler's recipe: «Bodenseekäse», «Füürtüfel», «Die zarte Klara» and «Le Baron» cheeses melt together to form an unbeatable quartet! Feel this cheesy pasta perfection melt on your tongue!
Ingredients
serves 4 Personen
Pasta ribbons

4 piece(s)

large eggs

2 tbsp

water

salt, nutmeg, pepper

50 g

semolina

240 g

white flour
Cheese mix

50 g

«Bodenseekäse»

50 g

«Füürtüfel»

80 g

«Die zarte Klara Bio»

80 g

«Le Baron»
Fried onions

6 piece(s)

onions

200 g

butter

300 g

peanut oil

salt, pepper, curry, powdered paprika
Preparation
Pasta

Put all the ingredients into a bowl.

Lay the pasta dough on a wooden board and then scrape so the pasta ribbons fall straight off the board into the boiling water. (This can also be done with a specialist pasta-cutting board or pasta press.)

Poach the pasta ribbons briefly, then chill them in cold water before draining.

Set the pasta ribbons to one side.

Cheese mix

Grate all four cheeses into large flakes using a coarse grater.

Fried onions

Finely chop two onions, then gently sweat the onions in butter until they turn a golden-brown color.

Season with salt and pepper, and set to one side.

Slice four onions into rings, dust with flour (optional: with paprika and curry powder too) and deep-fry in peanut oil at 150°C.

Let the fried onions drain on a piece of kitchen paper.

To serve

Briefly sauté the pasta ribbons with the sweated onions. Fold in half of the grated cheese.

Next, place the pasta ribbons into an oven-proof dish. Sprinkle over the other half of the cheese and bake on the middle shelf of the oven at 220°C.

Garnish with fried onions. Optional: Sprinkle over some chives or parsley.