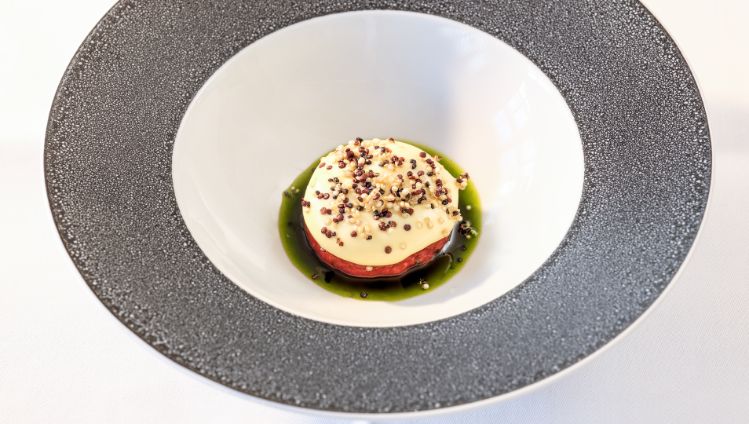 Tartare of Black Angus beef
This tartare is the star of the show at any celebratory meal! Christian Kuchler serves it with homemade hollandaise sauce, chive oil, and fried rapeseed. A culinary treat that goes wonderfully well with our "Rapsody" cheese; a fusion of melt-in-the-mouth, spice-infused cheese and toasted rapeseed kernels.
Ingredients
serves 8 Personen
Tartare

250 g

fillet steak or haunch, minced or cut by hand

80 g

«Rapsody», grated into fine flakes

1 piece(s)

egg yolk

2 tbsp

ketchup

1 tbsp

Cognac

1 tsp.

horseradish (jar)

1 tsp.

mustard

1 tsp.

Moutard de Meaux

1 tbsp

gherkin pickling water

1 piece(s)

Chirat gherkin, cut into small cubes

0.5 piece(s)

onion, cut into small cubes

10 piece(s)

capers, chopped

salt, pepper, Tabasco
Hollandaise

6 piece(s)

shallots, cut into slices

300 ml

white wine

100 ml

Kressi vinegar

white peppercorns

bay leaf

1 sprig

flat-leaf parsley

200 g

butter

1 sprig

rosemary

1 sprig

thyme

1

egg yolk
Chive oil

2 bundle

chives

1 bundle

flat-leaf parsley

150 ml

grape seed oil or sunflower oil
Rapeseed

25 g

rapeseeds, soaked in cold water for 20 minutes

150 ml

peanut oil
Preparation
Tartare

Combine all the ingredients in a bowl and mix. Season with salt, pepper, and Tabasco.

Hollandaise

Put all the ingredients in a pan, including the parsley. Reduce by a third and set to one side.

Melt the butter together with the rosemary and thyme until it runs clear. Then pass the liquid through a sieve and keep warm at 65°C.

Assembling the hollandaise

Add one egg yolk and three tablespoons of the reduction to a water bath and stir until frothy.

Gradually pour in the liquid, clarified butter until the consistency is right.

Finally, season with salt and pepper, and add some of the lime juice to taste.

Pour the hollandaise into a Kisag whipper and keep warm at 60°C.

Chive oil

Mix together all the ingredients in a mixer and allow to pass through a fine-weave cloth.

Rapeseed

Boil the rapeseeds in unsalted water for five minutes, then pat them dry with a piece of kitchen paper.

Next, fry them in peanut oil at 150°C.

Leave the seeds to drain on a piece of kitchen paper and lightly salt them.

To serve the tartare

Arrange the beef tartare in a circle and place in the center of a deep dish.

Garnish the edge of the plate with a spoonful of chive oil.

Squirt the hollandaise onto the tartare and sprinkle with toasted rapeseed kernels.

Decorate the tartare with chives.