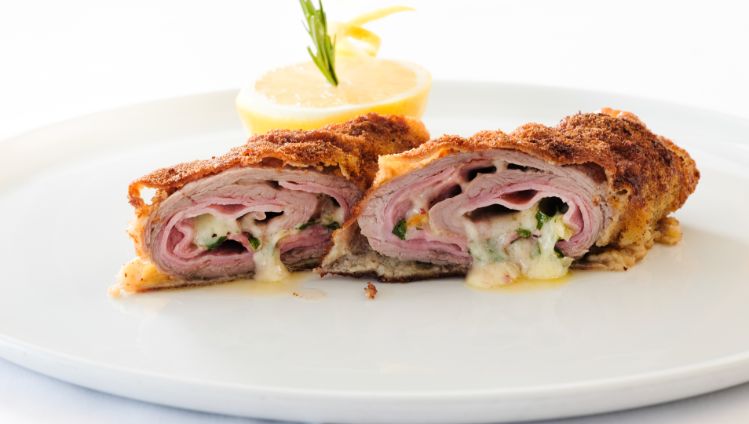 Rolled cordon bleu
This cordon bleu arrives on the scene with a bang and adds some oomph to your meal! Coating meat in breadcrumbs has long been popular in Switzerland. The name «cordon bleu» comes from the French, however, and means «the blue cord». In France, the cordon bleu is an award presented for outstanding culinary skills. Christian Kuchler has perfected our cordon bleu recipe with «Wällechäs mild» and «Füürtüfel» cheeses – it's a treat you won't be able to get enough of!
Ingredients
serves 4 Personen
| | |
| --- | --- |
| 250 g | clarified butter or lard |
| 1 piece(s) | calf sirloin |
| 4 thick slices | Buurehamme ham |
| 4 thick slices | «Wällechäs» |
| 4 thick slices | «Füürtüfel» |
| 2 large | eggs |
| 100 g | flour |
| 100 g | white breadcrumbs |
| 2 piece(s) | spring onions |
| 1 bundle | flat-leaf parsley |
| 2 piece(s) | gherkins |
Preparation
Truss the calf sirloin and cut into four equal-sized pieces (approx. 200g each).

Beat the pieces between two sheets of baking parchment until thin.

Place a slice of the Buurehamme ham and a slice of cheese on top of the meat. Chop the spring onions, flat-leaf parsley, and pickles. Spread the chopped mixture over the meat.

Next, roll up the meat and topping to form a roulade.

Coat the roulade in flour, egg, and breadcrumbs.

Carefully fry in butter or pork dripping until golden-brown. Then, place on the middle shelf of the oven at 150°C and bake for ten minutes.
Tip: The cordon bleu can be coated in two layers of breadcrumbs to stop it from splitting open and the cheese escaping. If double-coated, bake in the oven for 15 minutes.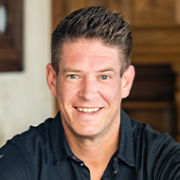 Marketing cookies necessary
Please accept the relevant cookie category to view this content