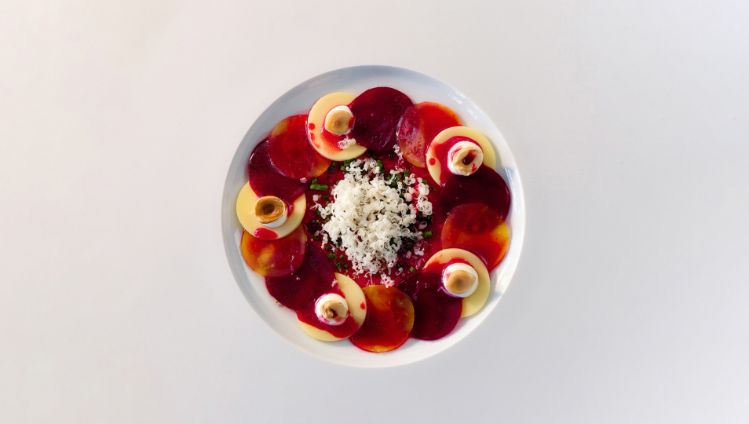 Carpaccio of Black Angus with beet
Black Angus beef is one of the most popular cattle breeds in the world. In his take on this premium beef, Christian Kuchler adds panache by teaming it with red and yellow beet, and hazelnuts from the region of Piedmont. Gossamer-thin slices of «Le Baron» add the crowning glory to this classic Italian starter. A superb taste and easy to prepare!
Ingredients
serves 4 Personen
| | |
| --- | --- |
| 250 g | carpaccio of Black Angus beef (order thinly sliced from the butcher) |
| 4 piece(s) | cooked red beets |
| 4 piece(s) | cooked yellow beets |
| 300 g | «Le Baron» |
| 50 g | Piedmont hazelnuts |
| 300 ml | Biotta beet juice |
| 100 ml | Biotta beet juice |
| 200 ml | olive oil |
| 25 g | sour cream in a piping bag |
| 1 bundle | chives |
| 1 piece(s) | lemon (juice and zest) |
| | caraway, salt and pepper |
Preparation
Vinaigrette

Heat the beet juice in a pan together with a pinch of salt, caraway, and pepper.

Next, add the sherry vinegar and continue to simmer for another ten minutes. Next, mix the whole vinaigrette using a hand blender and drizzle in the olive oil until you are left with a homogeneous mixture. Add a little lemon juice to the vinaigrette.

Pour the vinaigrette into a spray bottle, e.g. into a pipette.

Serving the carpaccio

Thinly slice the red and yellow beets and cut into discs.

Thinly slice the «Le Baron» cheese and cut this into discs too.

Arrange the carpaccio on a plate. Next, alternate slices of the beet and «Le Baron» in a fan shape over the beef until it is covered.

Drizzle over the vinaigrette.

Squirt on a few drops of sour cream and carefully top with halved hazelnuts.

Garnish with a pinch of finely chopped chives.

If wished, a few drops of an aged balsamic vinegar can also be added.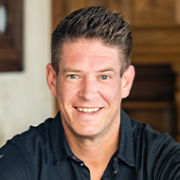 Marketing cookies necessary
Please accept the relevant cookie category to view this content